Your expert residential painter Sydney – House Painters & Apartment Painting in Sydney
We know that a good home painting job is all about minimal disruption to your lives and maximum wow factor to your home. A good paint job needs to stand the test of time. We're so confident in our results that we guarantee our paintwork for 5 years to give you peace of mind.
Interior residential painters
As experienced residential painters, we promise that we'll bring out the charm and value of the interior of any room in your house that you'd like us to paint. We use only the best and most appropriate paint for your surfaces to ensure results that are truly first class.
As Dulux Accredited and Master Painters Association certified house painters Sydney wide, we've got a keen eye for what paints will bring out the personality of the different rooms of your house. We don't just service standard suburban properties, we're capable of working on residential apartments too – still providing a service that's considerate to your home and driven by outstanding results.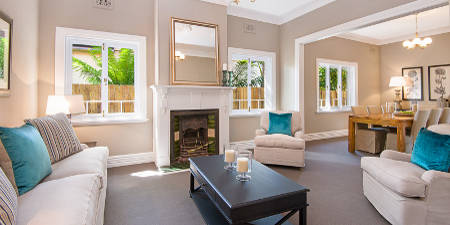 We understand that your home is your pride and joy. So, when we undertake your home painting job we'll meticulously prepare the surfaces before we even begin, so when we paint, the result will be outstanding. See our services page to get an understanding of some of the preparation services we provide.
When we do paint, we use the best and most appropriate paint for your situation to ensure your results are truly first class.
Exterior residential painters
There are many benefits to painting the exterior of your home. Read our blog for further information. Sydney's weather can play havoc on paint. As professional Sydney residential painters, we see a number of paint issues that need to be fixed. For example
Peeling paint – Loss of paint due to poor adhesion
Blistering – Bubbles resulting from loss of adhesion and lifting of the paint
Dirt Pickup – dirt, dust particles and/or other debris
Chalking – formation of fine powder cause colour fading.
Tannin staining – brown discolouration due to the migration of tannins from timber
Efflorescence – white deposits of mineral salts on concrete walls or floors
Thanks to brickwork, weathering, wood and other environmental elements, exterior painting is a world much different from painting the wall of your lounge room. We understand this in depth, which is why we offer comprehensive exterior work as house painters Sydney can depend on.
Peeling paint, blistering, dirt, chalking, discoloured tannin and efflorescence all need to be handled with expert care, so our experienced residential painters Sydney can trust promise to tidy up these elements before getting started on your job. We know how to professionally deal with each of these home painting issues. The results – a beautiful coat of paint that won't blow off with a stiff wind.
Speak with our Sydney house painters
If you're looking to add a bit of colour to your home environment, you're in the right place. Get in touch with our friendly staff and we'll start things off by arranging an on-site quotation for your home. We'll be able to provide colour consultations throughout the process if needed, but we're just as comfortable working with any colour schemes you might have in mind. The only thing you should expect from us outside of a great job is an approach that will leave you informed during every step of the process – so you get to understand how to better care for your paint job by the time we're done. Call the best residential painter Sydney has to offer on 1300 933 025 or send us an enquiry online.